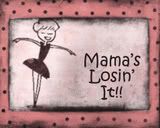 Okay, this post is all
Mama Kat's
fault. If it was up to me, I'd have written something hilariously funny that would have had you chuckling all day and even periodically into next week. But noooo, Mama Kat didn't have that one in her list of writing prompts so instead I chose to write about the one that got away.
Rewind back about, oh, 7 years ago. Well before I met Da Man. I was (gasp) playing an online game that I really loved and had been playing off and on for several years. I separated from my husband. I caught up with an old friend from that online game and discovered that he also was going through a divorce. It's so weird to try to explain it except that it's similar to how you feel you get to know someone now through their blogs but it was even more intense then because things happened in real time. You could see how a person would react in different situations and how the humor could just bubble out spontaneously. I tell ya, this guy could crack me up like crazy and we totally got each other's silly side.
The big part of this was...get this...he lives in Australia. Yep, like on the other side of the world Australia. We still decided that perhaps we should meet in real life. He bought the ticket for me to go see him and while I was waffling about it, persuaded me with the argument that even if we didn't have any chemistry, then at least I'll have gotten a good, free vacation with someone that I knew I could at least get along with. Worrying about him being an axe murderer was just non-existent. I knew him too well.
So...off I flew. Just 3 weeks after the 9/11 attacks. Security was incredible and I had an entire trans-Pacific flight (there and back) with an entire row to myself and could stretch out full length. Not a bad way to fly.
We had an absolute blast. He took off the entire week from work and we toured Australia. Wine fields, strawberry fields, nature preserves. I held a koala and tried kangaroo steak. We went to the southern tip and saw seals playing in the rocks at the edge of the ocean. We went through street fairs and to the docks to pick out fresh fish for dinner. For a girl that lives in Kansas, it was a fairy tale place.
It was terrible leaving, we felt like we were meant for each other. He came to the States to see me twice in the months following. Hippie Chick used to bring her friends over and stare at him
and then command him to talk. They loved his Aussie accent. One trip we just stayed in my home town and remodeled my mother's bathroom. The second trip we travelled to the east coast and met up with some other friends we knew from the game. It was incredible fun.
We talked about marriage and citizenship, the works. My exhusband though was fighting for custody of the boys. It was a horrible ordeal that dragged through the courts for months. We knew he'd never agree to letting me take the boys to Australia and I knew I couldn't go without them.
So we agreed to split ways. To this day we remain email friends. He's had a serious relationship now for several years and knows that I have remarried. We still email although it is less and less as time goes by.
So, sorry for the serious post. Remember it is Mama Kat's fault.